Many of us have attended an expo at some point in our lives, either for work or as a visitor. Whether you go all out or keep it simple, what you do want to do, is make sure your stand attracts potential customers! You want your brand to be instantly recognisable, and your stand to be engaging.
We've put together a few tips to help you stand out in a crowded exhibition space!
1. Maximise the Space
Booth sizes can be restrictive and are often chosen based on budget. Always confirm dimensions well in advance so you know exactly what you have to work with, and you can start planning.
Make sure there are no physical obstructions or barriers when entering and exiting and encourage flow through your stand.
2. Think about reaching for the stars
Although many exhibition stands have a maximum head height, some larger venues have an extremely high floor-to-ceiling. It's worthwhile to check if there's a maximum stand height! If there isn't, the ceiling is quite literally the limit! Bring in high signage, suspended props or incorporate interesting lighting so you catch the attendee's eye from the moment they enter the exhibition and attract them to your stand.
3. Lay off the heavy text
Less is more here! There is a lot going on at exhibitions, and no one is going to stop to read lengthy text.
Use a slogan that people will remember after the event, rather than listing product information that few people will pay attention to.
Short, punchy, and memorable is what you want here!
Use a font that is clear and big enough to be seen from a distance. Try to place your text on the top half of your exhibit stand so that it is not blocked by people in your display area.
4. Light it up!
Lighting plays a very important role in the design of exhibition stands and is often not given enough attention when planning.
Lights enhance the aesthetic of your stand, create ambience and set the mood when used correctly. For example, a company that's showcasing home furnishings might want to look at using soft lighting in warm tones to create a comfy and inviting atmosphere.
Use additional lighting and don't rely on what's supplied by the venue. Spotlights, up lights and coloured lights are a great way to highlight new products or special sections in your stand.
5. Get graphic
Images, videos, and graphics are a quick and effective medium to communicate a complex message or idea instead of loads of text.
Make sure your graphics can be seen from a distance and aren't hidden or blocked by anything. Videos can be really useful in adding to the mood of your stand.
6. Consider different materials
Using the right materials can reinforce your image and create a stand design that will attract your target market.
Are you in the tech industry? Perhaps you want a contemporary design and feel- brushed aluminium panels or chrome detailing could be a good choice.
Smooth, plastic mouldings are also a great way to create a modern, clean feel. A good option for those in the pharmaceutical or medical industry.
8. Include Tech
Including tech in your stand can do a great deal in making your stand memorable.
Product demos are a huge part of trade shows, as they allow you to get your product right in front of your target market. Take the opportunity to showcase a live prototype e.g. an automation firm could showcase their products by creating a robotic barman who could serve refreshments to attendees.
9. Create an immersive experience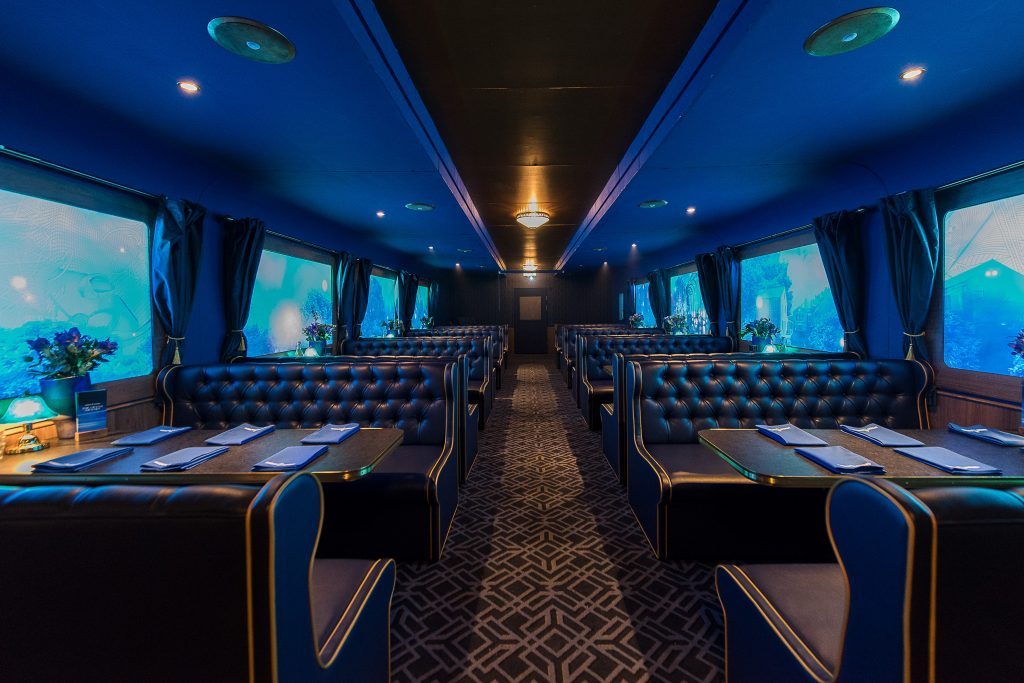 Check out this incredible stand for Bombay Sapphire gin.  Once visitors were inside the train they experienced different dishes, a projection of moving images, music, lighting and even fragrance to represent different botanical locations. A brilliant example of an immersive stand experience!
10. Exhibition stand freebies
On-stand giveaways are tried and tested trick to pull in visitors but rather than just handing out freebies. A cool idea is to incorporate gifts into the actual design of your stand. No one needs another pen, try something unique, that matches your brand!
You can also try interactive giveaways like free massages or manicures and design a special area for these to take place.
There are some truly incredible examples online that you can use to create a really memorable, interactive and fun exhibition stands. Gone are the days of manning the stand handing out lanyards, business cards and pens. It's the perfect opportunity to immerse potential customers into your brand experience, so they choose you and not your competitors!